The land on which Bloedel Reserve sits has a history that reaches back long before the Bloedels acquired it. It is only fitting that we recognize, appreciate, and honor that heritage.
We express deep gratitude towards the Suquamish People, People of the Clear Salt Water, for sustaining the land within which our healing landscapes thrive.
Those entrusted with caring for Bloedel Reserve acknowledge that the sacred ancestral territory on which the Reserve resides flourishes because of the stewardship, since time immemorial, by the Suquamish people.
We will honor and respect their legacy by nurturing this land and the waterways of the Central Salish Sea for present and future generations.
A Gift to All
In 1951, Virginia and Prentice Bloedel purchased the property that would become Bloedel Reserve. It was their private residence for more than 30 years, many devoted to exploring the relationship between people and nature.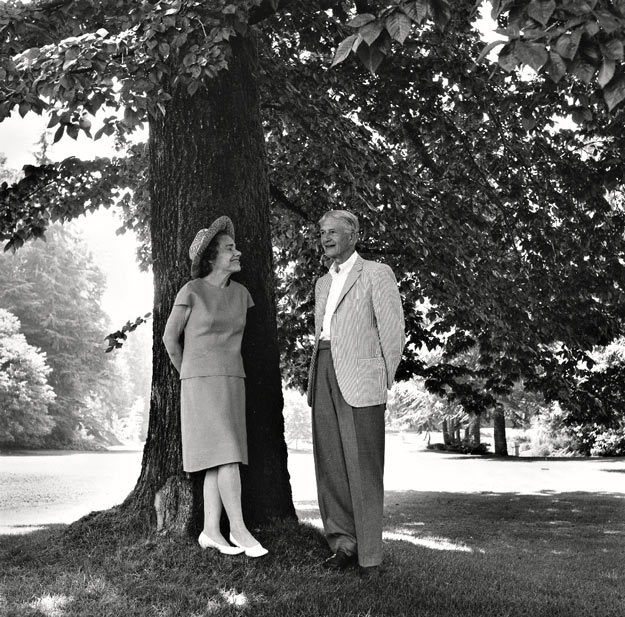 Yale-educated, Mr. Bloedel began a teaching career but soon became the reluctant heir to his father's timber business. An environmentalist at heart, he innovated several of today's conservation concepts such as "reuse." He advocated reusing hog fuel, a log byproduct, to help generate sawmill power and worked with pulp mills to reduce waste. His most enduring "green" idea was to plant seedlings to reforest clear-cut land.
Sculpting the landscape became the focus of Mr. Bloedel's retirement. Almost daily, he could be found walking the grounds, thinking of how to shape his masterpiece. With the help of noted landscape architects and designers, including Thomas Church, Richard Haag, Fujitaro Kubota, and Iain Robertson, he "wove" several unique landscape experiences throughout the native Pacific Northwest forest. Mr. Bloedel's commitment to ecological principles prevailed; for example, he placed water features only proximal to natural groundwater.
Later in life, the Bloedels gave the Reserve to the community and established a nonprofit to support its operations. In 1988, the Reserve opened to the public as a 150-acre public garden and forest preserve.
Some believe Mr. Bloedel's love of nature was ingrained from his time as a student and teacher at California's Thacher School, which had an ambitious outdoor component in its curriculum. Others speculate that walking the land and creating the gardens helped Mr. Bloedel deal with the side effects of polio, which he contracted as a young adult.
Mr. Bloedel was deeply interested in the relationship between people and the natural world, and the power of landscape to evoke emotions — from tranquility to exhilaration. He was ahead of his time in understanding the therapeutic power of nature and funded early research into the psychological effect of time spent outdoors.
https://bloedelreserve.org/
I'm never too busy for your call
GABRIELLE RITTER
Premier Agent,
Charter Real Estate
206-866-8136